Here's my list of the 10 of the best legal courtroom dramas TV series according to me. Arranged in order of what I think are the best to the least best. I'm sure that there are more out there! But these legal thrillers are the ones that I've watched and liked.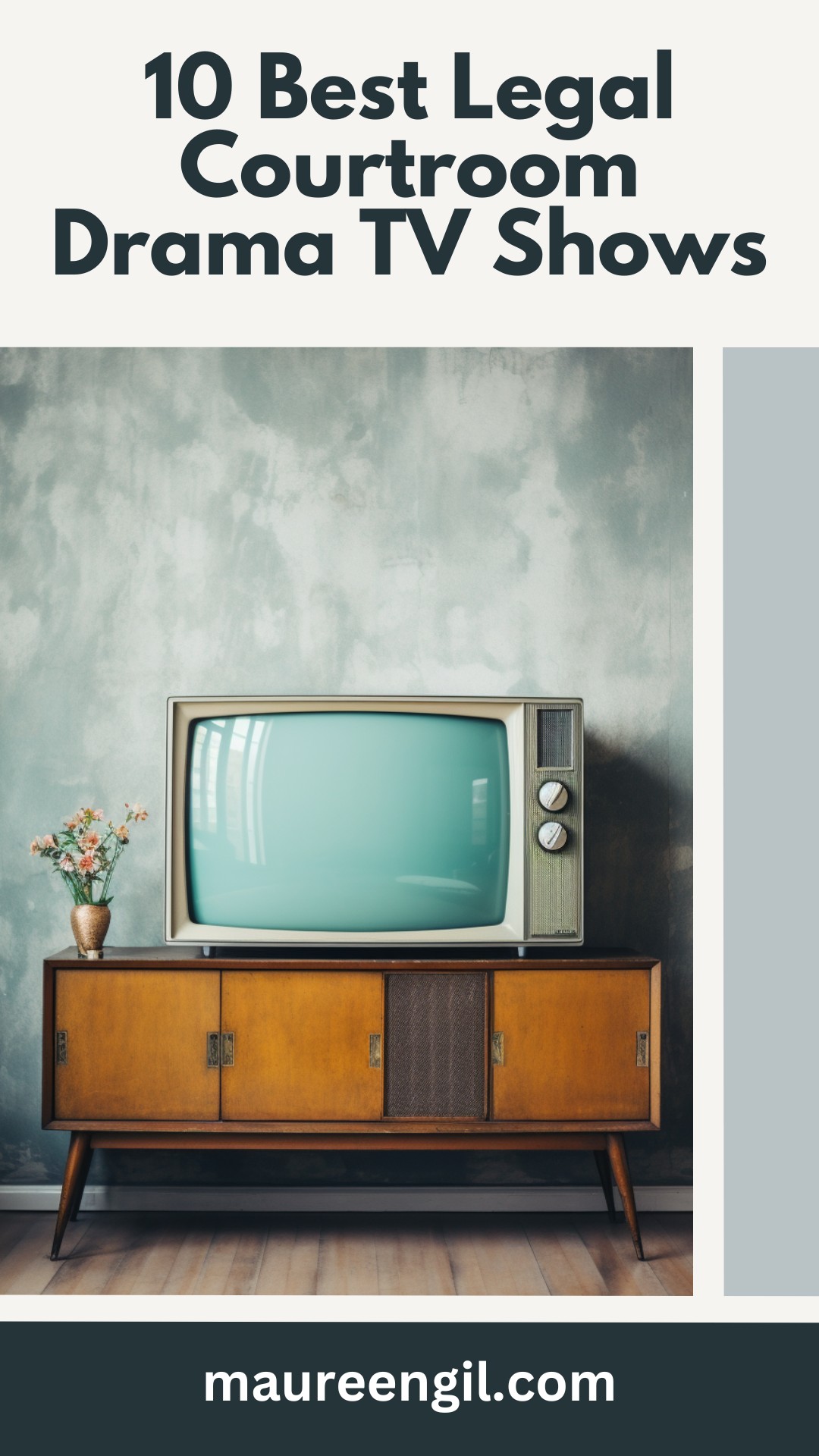 10 Best Legal Courtroom Drama TV Shows
If you love a good courtroom drama (I mean fictional ones!) then check out these 10 television shows.

The Lincoln Lawyer TV series is an legal drama television series created for television by David E. Kelley and developed by Ted Humphrey, based on the books of Michael Connelly. The series stars Manuel Garcia-Rulfo as Mickey Haller. Manuel Garcia-Rulfo, by the way, was in Season 2 of Goliath (see below).

The strength of The Lincoln Lawyer is the stellar writing, and that's because the executive producer is ... Michael Connelly. I mean, he's a freaking awesome writer and a NYT bestseller for a reason, amirite?

Season 1 features Mickey Haller as he defends billionaire video game developer Trevor Elliott.

Season 2 returns as Mickey Haller, recovering from the events of Season 1, defends chef Lisa Trammel (who may or may not have stalked Mickey), accused of murdering a rich real estate developer.

One of the things that I like most about The Lincoln Lawyer is that it portrays a relatively believable life of a solo practicing attorney (minus, of course, the killing and beating up parts): bad clients, people who don't pay, running around the courthouses, liars, drug addicts, and the hustle of working for yourself.

One of the things I dislike most about The Lincoln Lawyer was the ex-wives. I know Mickey got along with them. I know he's also in love with his first ex, Maggie McFierce. What I don't agree with is that he's a wet noodle. He's a criminal defense attorney. He needs to get some stones.

Goliath is an American legal drama series created by David E. Kelley and Jonathan Shapiro, and it premiered on Amazon Prime Video in October 2016. The series follows Billy McBride (played by Billy Bob Thornton), a once-successful lawyer who is now an alcoholic after losing his job at a prestigious law firm. When he is approached by a woman who believes her son was wrongfully terminated from his job at a tech company, Billy sees an opportunity for redemption and takes on the case against the company, which is represented by his former law firm.

The strength of Goliath the stellar acting, spearheaded by Billy Bob Thornton, who was absolutely amazing. Thornton brings a level of nuance and complexity to the character of Billy, who is flawed but ultimately sympathetic. The supporting cast is also excellent, including Nina Arianda as Patty Solis-Papagian, a quirky and ambitious lawyer who becomes Billy's partner in the case, and William Hurt as Donald Cooperman, the powerful and enigmatic head of the tech company.

Also, it has great courtroom scenes and (for the most part) very legally accurate ones. Nothing annoys me more than an inaccurate legal premise. The series doesn't shy away from depicting the darker side of the legal profession, including lawyers who prioritize winning over justice and judges who can be bought off. However, it also shows the potential for individuals to make a difference and fight for what's right, even in the face of overwhelming odds.

The first season of Goliath centers around the case against the tech company, and as Billy investigates, he discovers a web of corruption and greed that reaches the highest levels of power in the company and the city. The series also explores Billy's personal life, including his relationship with his ex-wife (played by Maria Bello) and his estranged daughter (played by Diana Hopper).

The second season of Goliath follows Billy as he takes on a new case, this time involving a large-scale conspiracy within the government. The season also delves deeper into Billy's past and his complicated relationship with his father, played by the legendary actor and director, Lou Diamond Phillips. We see a smattering of new actors, all who are wonderful. However, the stellar acting didn't save the plot, however, as it was gross and unfocused.

The third season of Goliath takes a different approach, with Billy taking on a more personal case involving a friend who has been accused of murder. This season also introduces new characters, including a ruthless lawyer played by Dennis Quaid and a mysterious woman played by Amy Brenneman.

The fourth and final season of Goliath is set in San Francisco, as Billy McBride helps Patty with a huge opioid case. On the personal side, Billy is dealing with personal issues as his drinking has gotten in the way of his relationship with his daughter. We see a lot of dream sequences, which did zero to add to the plot.

Suits is an American legal drama television series that premiered in 2011 and ran for nine seasons until 2019. The show was created by Aaron Korsh and follows the personal and professional lives of the attorneys at the fictional law firm, Pearson Hardman.

The show's main character is Mike Ross, played by Patrick J. Adams, a brilliant college dropout who lands a job at Pearson Hardman despite never attending law school. Mike is hired by Harvey Specter, played by Gabriel Macht, a high-powered attorney who takes a liking to Mike's intelligence and resourcefulness. The two develop a close mentor-mentee relationship as they work together to win cases and navigate the cutthroat world of corporate law.

One of the main points that I disliked about this show was the portrayal that cheating on the LSATs and hacking into both Harvard Law School computer system and the state bar association system was a doable feat.

Over the course of the show's nine seasons, the characters at Pearson Hardman face a wide range of legal challenges, from high-stakes corporate mergers to criminal investigations. The show is known for its fast-paced dialogue, complex legal cases, and the high-stakes drama that unfolds in and out of the courtroom.

Also, this show features a princess. I'm of course talking about the talented actor Meghan Markle, who played Rachel Zane, a paralegal at Pearson Hardman who later becomes a lawyer and marries Mike.

Another standout character is Louis Litt, played by Rick Hoffman, who starts out as a rival to Mike and Harvey but eventually becomes an ally and a friend. Louis is a brilliant but eccentric attorney with a sharp tongue and a penchant for micromanaging his colleagues.

Throughout the show's run, Suits also tackled social issues such as racial and gender discrimination, mental health, and the challenges faced by working-class people in the legal profession. The show's willingness to address these issues head-on and explore them in a nuanced way helped to make it a standout legal drama.

Another strength of Suits is its attention to detail in portraying the legal system. The show's writers consulted with real-life attorneys and legal experts to ensure that the cases and legal procedures depicted in the show were accurate and realistic. I always appreciate it when television and book writers get the law right.

Better Call Saul is an American television drama series created by Vince Gilligan and Peter Gould. The show serves as a prequel to the popular series Breaking Bad and focuses on the life of Jimmy McGill (played by Bob Odenkirk), a struggling lawyer who eventually becomes the infamous Saul Goodman.

The series explores the early life of Jimmy, a former con artist who tries to turn his life around and become a respected lawyer. However, Jimmy's past catches up with him. As the series progresses, Jimmy becomes more entangled in the criminal underworld, and his transformation into Saul Goodman becomes inevitable.

The show's writing is one of its strengths, and the dialogue is witty and well-crafted. Bob Odenkirk delivers an excellent performance as Jimmy, a complex but flawed character struggling to find his place in the world. The show also features a strong supporting cast, including Rhea Seehorn as Kim Wexler, Jimmy's love interest and fellow lawyer, and Jonathan Banks as Mike Ehrmantraut, a former cop turned "fixer" for the criminal underworld.

One of the standout elements of Better Call Saul is its use of flashbacks and non-linear storytelling. The show frequently jumps between the present day and Jimmy's past, providing insights into his character. This technique also allows the show to explore the backstories of other characters, including Mike, Gus Fring (played by Giancarlo Esposito), and Hector Salamanca (played by Mark Margolis).

Another strength of the show is its exploration of themes such as morality, ambition, and redemption. The characters in Better Call Saul are complex and often make questionable decisions, and the show explores the motivations behind their actions. Fans of Breaking Bad will appreciate the many Easter eggs and references to the original series.

The show's fifth and most recent season saw Jimmy finally fully embrace his alter ego of Saul Goodman, while also delving deeper into the criminal underworld. The season also saw the return of several fan-favorite characters from Breaking Bad, including Hank Schrader (played by Dean Norris) and Steven Gomez (played by Steven Michael Quezada).

No courtroom drama television series would be complete without How To Get Away With Murder, starring the magnificent Viola Davis as Annalise Keaton. Davis won an Emmy Award for her portrayal of Annalise, becoming the first African-American woman to win the award for Outstanding Lead Actress in a Drama Series.

How To Get Away With Murder is an American legal drama television series created by Peter Nowalk. It premiered on ABC in September 2014 and concluded in May 2020 after six seasons. The series follows Annalise Keating, a brilliant and charismatic criminal defense lawyer and law professor at a prestigious university in Philadelphia. Along with her team of ambitious law students, Annalise becomes involved in a series of high-profile cases that often blur the lines between right and wrong.

This show is a spin on the dark academia genre crossed with a legal thriller, with a non-linear time line. Also, the show's narrative structure is unique in that each season revolves around a central mystery that is introduced in the first episode and slowly unravels over the course of the season.

The weakness of this show is the vast unbelievable story line of murder and mayhem. I realize the name of the show, but all the murders defy reality. Only Red Reddington can pull that off.

One of the show's strengths is its depiction of the legal system and the ethical dilemmas faced by lawyers and law students. The show highlights the often cutthroat nature of the legal profession, as well as the impact of race, class, and privilege on the criminal justice system. It also delves into the personal lives of the characters, exploring issues such as addiction, sexuality, and mental health.

The first season of How To Get Away With Murder introduces the central mystery of who killed Annalise's husband, Sam (played by Tom Verica), and the subsequent cover-up by Annalise and her students. Along the way, the show explores a number of complex legal cases and personal dramas, including Annalise's affair with a detective investigating the murder and the revelation that one of her law students is actually working as a spy for the prosecutor's office.

The subsequent seasons of the show up the ante developed in the first awesome season and also explores the personal lives of the characters in greater depth, including Annalise's complicated relationships with her mother and sister, as well as the struggles of the law students as they navigate the pressures of law school and the cases they become involved in.

The show's final season ties up all the loose ends and delivers a satisfying conclusion to the series. The final mystery revolves around Annalise's murder trial, with all of the main characters coming together to defend her. The show also explores the future of the characters beyond the trial, revealing where they end up and how they move on from the events of the series.

Here's a question for you: what is a legal political drama about a cheating politician? Answer: The Good Wife Here's another one for you: Is there season 8 of The Good Wife? Answer: No, the show ended with 7 seasons. Primetime Emmy Award winner Julianna Margulies returns for the last time as Alicia Florrick, the "good wife" who went on to create an independent life of her own, in the final (7th) season.

The Good Wife is an American legal drama television series created by Robert and Michelle King. The series premiered on CBS in September 2009 and concluded in May 2016 after seven seasons. The show follows Alicia Florrick (played by Julianna Margulies), a former stay-at-home mom who returns to her career as a lawyer after her husband, Peter (played by Chris Noth), a former state's attorney, is imprisoned following a corruption scandal.

The show's early seasons focus on Alicia's struggles to rebuild her career and reputation while also dealing with the fallout from her husband's scandal. Alicia joins a prestigious law firm and quickly establishes herself as a skilled litigator, despite facing discrimination and sexism from some of her colleagues. Along the way, she also navigates her complex relationship with her husband, who is released from prison and attempts to reenter politics.

One of the strengths of The Good Wife is its ensemble cast, which includes several standout performances. Julianna Margulies delivers a nuanced and layered performance as Alicia, a character who is often reserved but has a fierce intelligence and determination. I love her "reserved" but "kick-ass" demeanor.

Christine Baranski also shines as Diane Lockhart, Alicia's boss and mentor, who is a powerful and ambitious attorney in her own right. Baranski's performance was so great that she deserved her own spin-off, The Good Fight.

The later seasons of the show focus more on the cases that Alicia and her colleagues take on, as well as the political machinations of the characters. The show introduces new characters, such as Lucca Quinn (played by Cush Jumbo), a talented young lawyer who becomes Alicia's colleague and friend, and Eli Gold (played by Alan Cumming), a cunning political strategist who becomes involved in Alicia's campaigns and those of other characters.

The Good Wife's final season ties up all the loose ends and delivers a satisfying conclusion to the series. The season revolves around Alicia's campaign for state's attorney, as she navigates the cutthroat world of politics and faces off against Peter.

Law & Order: SVU, often abbreviated as "SVU," is a popular American television crime drama series that first aired in 1999. It is also one of the longest running television shows, which speaks to how well loved it is.

Law & Order: SVU is a spin-off of the original "Law & Order" series and focuses on investigations of sexually-based crimes, including rape, domestic violence, and child abuse. As such, it often crosses over with characters and plot lines.

The show centers around an elite squad of detectives from the New York City Police Department's Special Victims Unit, led by the now-Captain Olivia Benson (played by Mariska Hargitay). The detectives work tirelessly to solve cases involving sexual assault and other violent crimes, often dealing with difficult and emotionally charged situations.

One of the show's strengths is its focus on the victims of these crimes, as opposed to the perpetrators. The show is known for its sensitive and respectful portrayal of survivors of sexual violence and the challenges they face in seeking justice. It also explores the impact of these crimes on the victims' families and the wider community.

The show's writing is another of its strengths, with well-crafted storylines and complex character development. The series often draws inspiration from real-life cases, and the show's writers work closely with experts in the field of sexual violence to ensure accuracy and sensitivity.

Other notable characters include Detective Elliot Stabler (played by Christopher Meloni), Benson's former partner who left the show in season 12, and Assistant District Attorney Rafael Barba (played by Raúl Esparza), who joined the show in season 14.

As with all the Law & Order shows, this show features numerous, notable guest stars over the years, including Robin Williams, Cynthia Nixon, and Bradley Cooper.

Over its 22 seasons, Law & Order: SVU has tackled a wide range of issues related to sexual violence, including human trafficking, revenge porn, and campus sexual assault. The show has also tackled social issues such as racism, police brutality, and the #MeToo movement, earning praise for its willingness to address these sensitive and often controversial topics.

Boston Legal is an American legal comedy-drama television series that premiered in 2004 and aired until 2008. The show was created by David E. Kelley, who also created other popular legal dramas such as The Practice and Ally McBeal. Boston Legal was a spin-off of The Practice and followed the exploits of the attorneys at the fictional law firm Crane, Poole & Schmidt.

The show's main character is Alan Shore, played by James Spader, a brilliant and unorthodox lawyer who is known for his unapologetic and sometimes unethical tactics in the courtroom. I absolutely love The Spadinator, especially in The Blacklist. (On the other hand, I highly dislike Megan Boone, who plays Elizabeth Keen in that show.)

Alan is often at odds with the firm's founding partner, Denny Crane, played by the one and only William Shatner, who is a politically conservative, gun-loving, and often sexist character with a declining mental state.

The show's storylines often revolve around the personal and professional lives of the attorneys at the firm, as well as the cases they are working on. The show was known for its use of satire and dark humor to comment on the legal system and societal issues. In other words, my kind of humor.

One of the show's standout performances came from Candice Bergen, who played Shirley Schmidt, a founding partner of the firm who was brought in to restore order and ethics to the office. Bergen's character was often at odds with Denny Crane and Alan Shore, but also served as a mentor and moral compass for the younger attorneys.

Another strength of the show was its willingness to tackle controversial issues head-on, often taking a liberal stance on topics such as gay rights and women's rights. The show was unapologetically political, but also managed to balance its social commentary with humor and engaging storylines.

In addition to its strong writing and talented cast, Boston Legal also stood out for its unique visual style. The show often used split-screen shots and other visual tricks to add an extra layer of depth to its storytelling.

Perry Mason is a classic American legal drama television series, which aired from 1957 to 1966. It received a reboot in 2020 on HBO. The show is a reboot of the classic series of the same name, the new series stars Matthew Rhys as Perry Mason, a criminal defense lawyer in 1930s Los Angeles. This blurb is going to be about the new HBO series, although I definitely think you should watch the original, too.

The show's first season begins with Mason working as a private investigator, struggling to make ends meet in the midst of the Great Depression. He is hired to investigate a high-profile case involving the kidnapping and murder of a child. As he delves deeper into the case, he uncovers a web of corruption and deceit that implicates some of the city's most powerful people.

One of the strengths of Perry Mason is its attention to detail in recreating the period setting. The show's production design, costumes, and music all capture the look and feel of 1930s Los Angeles. The show also touches on important social issues of the time, including racism, sexism, and homophobia, in a way that feels both authentic and relevant to modern audiences.

Another strength of the show is its complex characters. Mason is portrayed as a flawed and troubled hero, haunted by his experiences as a World War I veteran and struggling to find his place in the world. He is also grappling with personal demons, including a failed marriage and a difficult relationship with his young son.

Ally McBeal is a legal comedy-drama television series that aired from 1997 to 2002. The show follows the life of Ally McBeal, a young and talented lawyer who works at a Boston law firm called Cage & Fish. The series explores Ally's personal and professional life, including her relationships, career struggles, and inner conflicts.

One of the unique aspects of Ally McBeal is its use of surrealism and fantasy sequences to illustrate Ally's inner thoughts and feelings. These sequences often involve elaborate musical numbers or dreamlike scenarios that offer a glimpse into Ally's subconscious. These sequences became a hallmark of the show and helped distinguish it from other, more serious legal dramas.

The show also features a diverse cast of characters, each with their own quirks and idiosyncrasies. Ally's coworkers include Richard Fish, a senior partner who often dispenses unorthodox legal advice, and John Cage, a brilliant but socially awkward attorney who has an obsession with Barry White. The show also features a variety of recurring characters, including Ally's love interests and her therapist, Dr. Tracy Clark.

Throughout the series, Ally deals with a variety of legal cases, ranging from straightforward contract disputes to more complex issues involving sex, gender, and discrimination. The show tackles these issues with a mix of humor and sensitivity, often using the surreal fantasy sequences to highlight the emotional impact of the cases on the characters.

One of the central themes of Ally McBeal appearance, her relationships, and her career, all while trying to maintain a positive outlook on life. The show explores these issues with a mix of comedy and drama, often using Ally's inner thoughts and fantasies to provide insight into her emotions and motivations.

Another notable aspect of Ally McBeal is its portrayal of gender and sexuality. The show features several LGBT characters, including the openly gay attorney John Cage and the transgender attorney played by Wilson Cruz. The show also tackles issues related to sexual harassment and gender discrimination, highlighting the challenges faced by women in male-dominated fields.

The show was not without controversy, however. Some critics accused the show of reinforcing negative stereotypes about women and perpetuating a shallow, appearance-obsessed culture. Others criticized the show's portrayal of mental health issues, particularly the character of Elaine Vassal, who is depicted as unstable and unpredictable.
Final Thoughts
What other shows should I add? And the biggest question that I have is … how many more legal dramas were developed by David E. Kelley???