The Giant has a sale this week for Buy One, Get One free London Broils. This is a fantastic deal to get at least two meals for your family. So today, I am going to write how to cook perfectly tender London broil.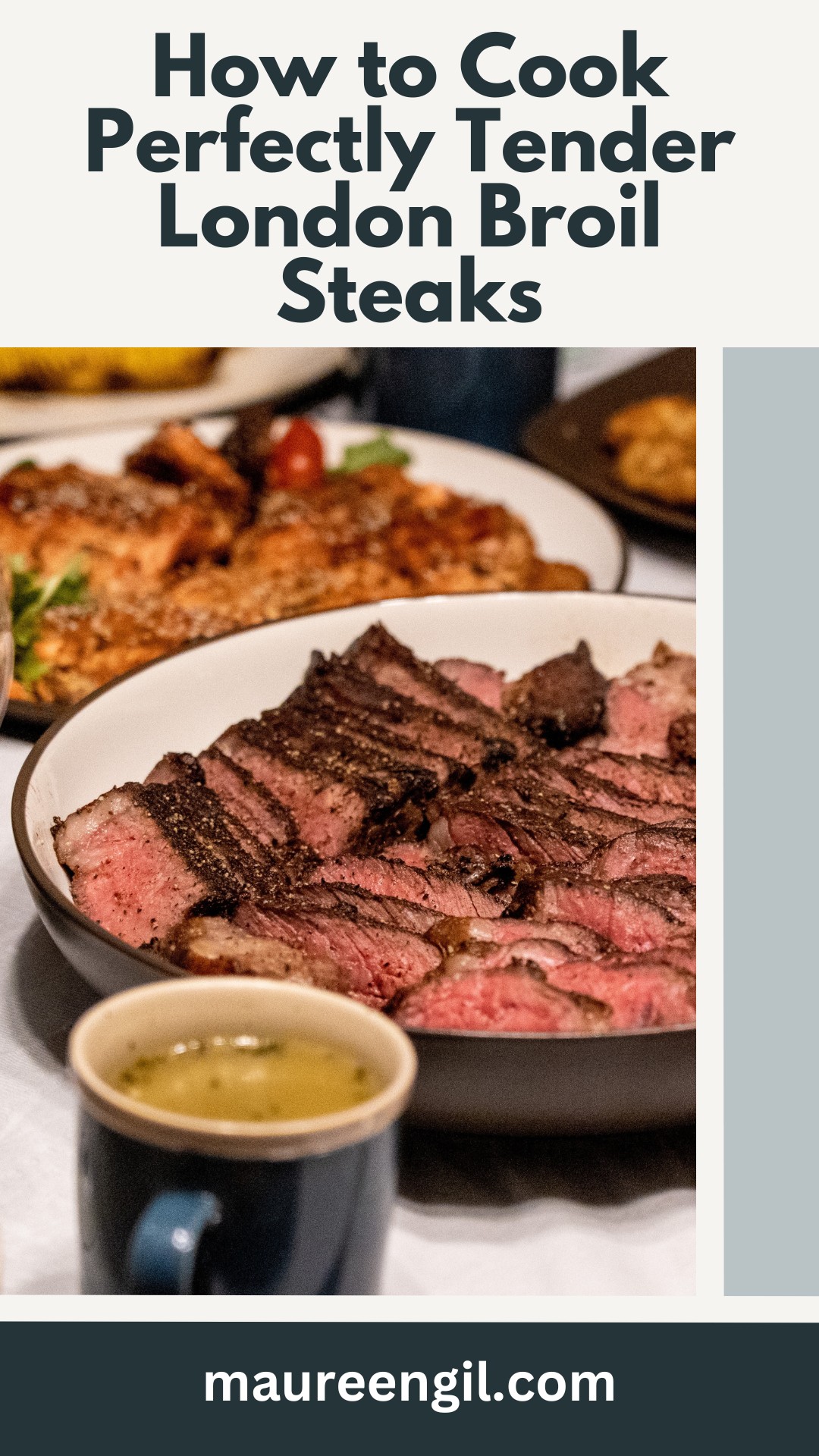 The kids love when the Giant has a sale on London broil … yeah, steaks for dinner! But London broil is so often left tough and chewy due to culinary mishandling. I've made that mistake many-a-times.
What is London Broil?
Contrary to popular belief, London broil isn't a cut of beef but a method of preparation. The term refers to marinating and then broiling or grilling flank steak or top round steak, then thinly slicing it across the grain. The result? A beautifully tender and flavorful steak that's a hit at summer barbecues and cozy winter dinners alike.
I've fairly sure that the meat that the Giant sells is actually flank steak (but no guarantees), just packaged as the name "London Broil."
Marinating Your London Broil
The first step to a tender London Broil is a good marinade. A marinade not only imparts flavor but also helps to tenderize the meat. Ideal marinades for London Broil often include acidic elements like vinegar or citrus, which help to break down tough muscle fibers. Marinate your steak for at least 4 hours, but for the best results, let it sit overnight.
Yield: 6 servings
London Broil Marinade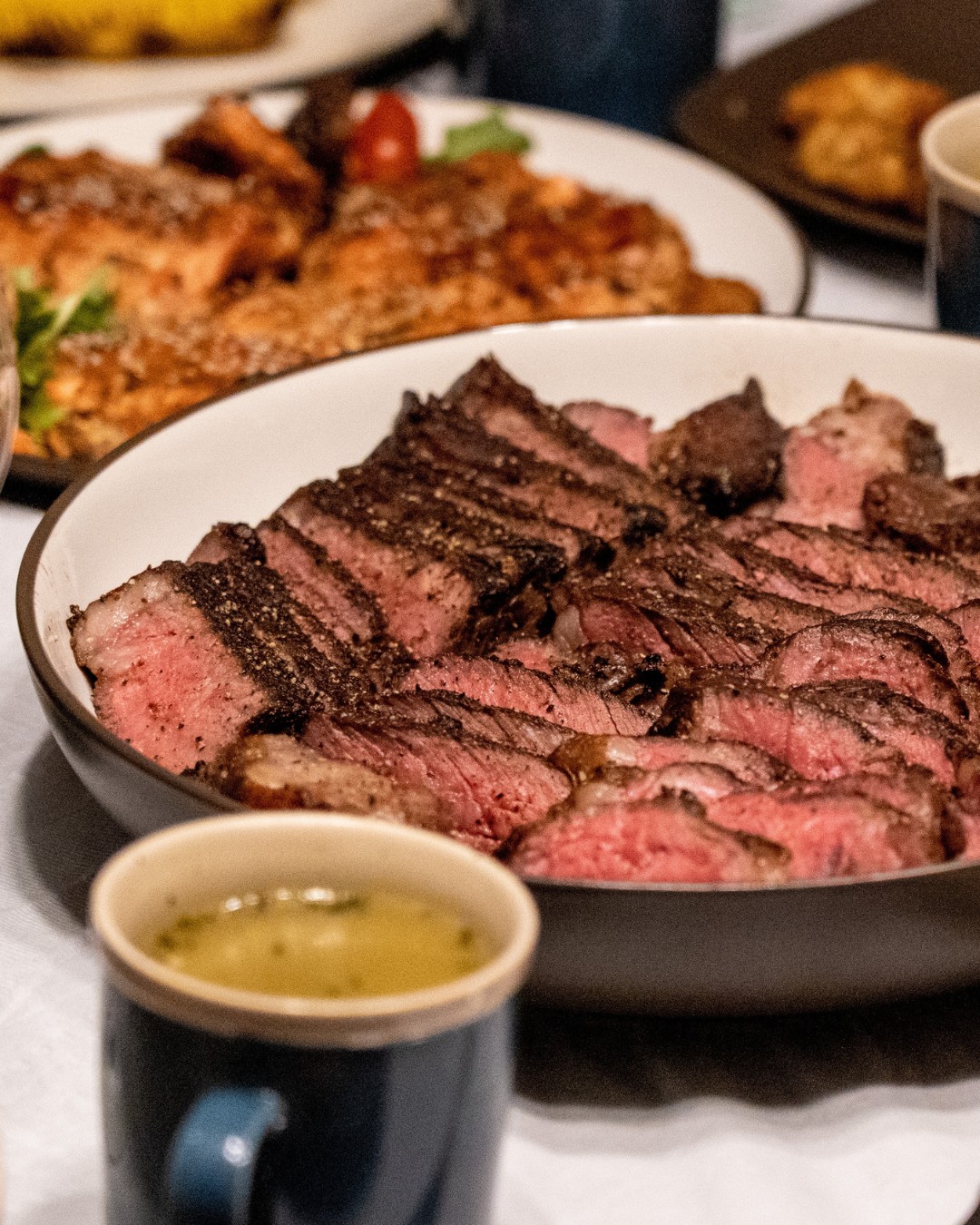 Marinading London broil ensures a delicious and tender cut of meat.
Ingredients
1/2 cup of olive oil
1/4 cup of lemon juice
2 cloves of garlic, minced
1 tablespoon of Dijon mustard
1 tablespoon of honey
Salt and pepper to taste
Instructions
In a bowl, combine the soy sauce, olive oil, lemon juice, minced garlic, Dijon mustard, honey, salt, and pepper. Stir until all the ingredients are well combined.
Place your steak in a deep dish or a large ziplock bag.
Pour the marinade over the steak, ensuring all sides are covered.
Let the steak marinate for at least 2 hours for best flavor, but you can leave it for up to 24 hours. The longer the steak marinates, the more flavorful it will be.
After marinating, grill or broil your steak as desired. Remember to discard the used marinade. Enjoy your meal!
Notes
You can use the marinade to baste the meat while cooking.
Nutrition Information
Yield

6
Serving Size

1
Amount Per Serving
Calories

194
Total Fat

18g
Saturated Fat

3g
Trans Fat

0g
Unsaturated Fat

15g
Cholesterol

0mg
Sodium

346mg
Carbohydrates

9g
Fiber

0g
Sugar

5g
Protein

0g
Nutritional values automatically generated.
Tenderizing Your London Broil
Another method to ensure a tender London Broil is by using a meat mallet. Be sure to cover your meat with a plastic wrap before you start pounding to avoid a mess. This method is particularly useful if you don't have time for a long marinade.
Cooking Your London Broil
There are several ways to cook a London Broil, but we'll focus on five: baking, grilling, broiling, slow cooking, and sous vide.
Cooking London Broil in an Oven
For those of us who prefer the convenience and control of oven cooking, this method is a real winner. Preheat your oven to 375°F (190°C) and place your marinated steak on a broiling pan. Bake for about 30 minutes, or until the steak reaches your desired level of doneness. Remember to let it rest for a few minutes before slicing and serving.
London Broil on the Grill
Ah, the grill. The smoky flavor, the sizzling sound, the primal satisfaction of cooking over an open flame. Preheat your grill to medium-high and cook your marinated steak for about 7-9 minutes on each side for medium-rare. Don't forget to let it rest before slicing to lock in those delicious juices.
Can You Cook London Broil in the Slow Cooker (Crock Pot)?
Slow and steady wins the race, as they say. For this method, place your marinated steak in the slow cooker, add your favorite vegetables, and let it cook on low for 6-8 hours. The result? A tender, flavorful London broil that practically melts in your mouth.
Broiling London Broil
Broiling is a great way to get that charred, smoky flavor without a grill. Preheat your broiler, place your marinated steak on a broiling pan, and broil for about 4-5 minutes on each side for medium-rare. Remember to let it rest before slicing.
London Broil with the Sous Vide Method
Sous vide is a method that involves sealing your steak in a plastic bag and cooking it in a water bath at a precise temperature. This method can result in a perfectly cooked steak that's tender throughout. It's generally best to buy a dedicated machine for this process. I recommend the Anova Culinary Sous Vide Precision Cooker. Although expensive, it will deliver the most tender and delicious London broil you ever had.
Cutting Your London Broil
Finally, the way you cut your London Broil can make a big difference in its tenderness. Always cut your steak against the grain. This shortens the muscle fibers and makes the steak easier to chew.
Some FAQs on How To Cook London Broil Steaks
What Is the Fastest Way to Tenderize a London Broil?
The fastest way to tenderize a London Broil is by marinating it. A marinade made with acidic ingredients like vinegar, lemon juice, or wine can help to tenderize the meat while also infusing it with flavor. Simply combine your marinade ingredients in a bag, add the meat, and let it sit in the refrigerator for at least a few hours, or overnight if possible.
How Long Does It Take to Tenderize a London Broil?
The length of time it takes to tenderize a London Broil can vary depending on the method used. If you're using a marinade, it's best to let the meat sit in it for at least four hours, but ideally overnight. If you're using a meat tenderizer tool, the process can be done in just a few minutes.
Should I Pierce My London Broil Before Marinating?
Yes, piercing your London Broil before marinating can help the marinade penetrate deeper into the meat, resulting in more flavor and tenderness. You can use a fork or a meat tenderizer tool to do this.
What Happens If You Don't Marinate London Broil?
If you don't marinate your London Broil, it may not be as tender or flavorful as it could be. This cut of meat is known for being tough, so a marinade can really help to improve its texture and taste. However, if you prefer not to marinate, you can still achieve a tender London Broil by cooking it slowly at a low temperature.
Does Pounding a London Broil Make It Tender?
Yes, pounding a London Broil can help to break down the tough muscle fibers and make it more tender. This can be done with a meat mallet or even the bottom of a heavy pan. Just be sure not to pound too hard or you could end up damaging the meat.
How Do You Cook London Broil So It's Not Tough?
The key to cooking a London Broil so it's not tough is to cook it slowly at a low temperature. This allows the tough muscle fibers to break down and become tender. Once it's cooked, let it rest for a few minutes before cutting into it. This allows the juices to redistribute throughout the meat, resulting in a more tender and flavorful bite.
How Do You Cut a London Broil to Make It Tender?
To make your London Broil more tender, cut it against the grain. This means cutting across the direction of the muscle fibers instead of parallel to them. This shortens the fibers and makes the meat easier to chew.
Which Cooking Method Is Preferred for London Broil?
The preferred cooking method for London Broil is usually broiling or grilling. These methods allow the outside of the meat to develop a flavorful crust while the inside remains juicy and tender. However, slow cooking methods like braising can also be used for a more tender result.
So, there you have it – a comprehensive guide on how to cook perfectly tender London Broil. Whether you're a seasoned chef or a novice in the kitchen, these methods can help you achieve a tender, juicy, and flavorful London Broil.
Have you tried any of these methods? Do you have a secret technique for how to cook a perfectly tender London Broil? Let me know in the comments!