Let's All Stay Home
My daughter and her boyfriend are looking for a house, and they have discovered what many first home time buyers found out: prices are through the roof. I mean, if prices were actual houses, the market could now be compared to the Empire State Building.
I'm not really sure why people have gone crazy, but I can personally attest to it. My next door neighbors put up their house for sale, and they had about ten billion people tromping through their house to see it over the course of the next two days.
I mostly know this because every single one of them seems to park me in. Somewhere in their crazed home-buying brain, they stop their cars, and they think, "Hey, let's piss off our potential new neighbors by parking right behind their cars so they can't leave their house."
Home Sweet Home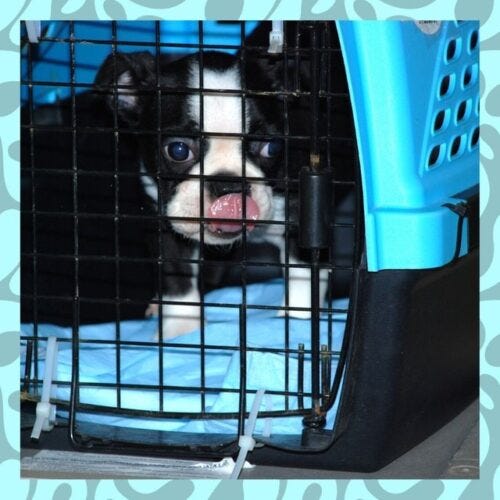 Here is baby Joe in his crate, which we call his house. His house has been upgraded since this picture, no need for a coronavirus pandemic house pandemic.
If you remember from a few weeks ago the police calling incident, these are the same neighbors. I have no way of knowing this, of course, but I have a sneaking suspicion that that police incident led to their house being put up on the market.*
I do wonder where their pit bull is. Knowing my neighbors, they are letting it roam around out in the back yard unleashed while everyone on the green earth is looking at their house. Of course, in this home buying market, I doubt any of the potential new homeowners care. They might actually think the pit bull is a perk that comes with the house. Like hardwood floors or new appliances, only more aggressive and smellier.
As for my daughter, I reminded her that what goes up also must come down. Waiting longer gives her the opportunity to save more money for a down payment.
* I also have a sneaking suspicion, again unverifiable, that they let instructions that people looking at their house could park anywhere they wanted.
Happenings
I really hope everyone enjoyed my legal thriller short story, "Charlotte Watson and the Missing Bullet." This newsletter, I am participating in "It's a Complete Mystery" story event. Check it out and download a bunch of free stories. And you can still grab the free ghost stories for February, too.
I'm watching Monk, which is free on Prime video. This is not the first time that I've watched this show. Tony Shalhoub is amazing in it. He's won a bunch of Golden Globes and Emmys for his role.
For those of you interested in why home prices are skyrocketing during these uncertain times, here is a nice article that explains.