With Valentine's Day tomorrow, I thought appropriate to summarize the Loving v. Virginia Supreme Court case. This case was an important one in the fight for racial equality. I also think that the case's name (Loving) is super en pointe. Awhile ago, it was made into a beautiful movie called Loving (affiliate link).
Loving v. Virginia essentially legalized marriage between the races. The Supreme Court ruled that criminal bans were racially based under the rigid scrutiny test. These laws violated the Equal Protection and Due Process Clauses of the Fourteenth Amendment to the U.S. Constitution.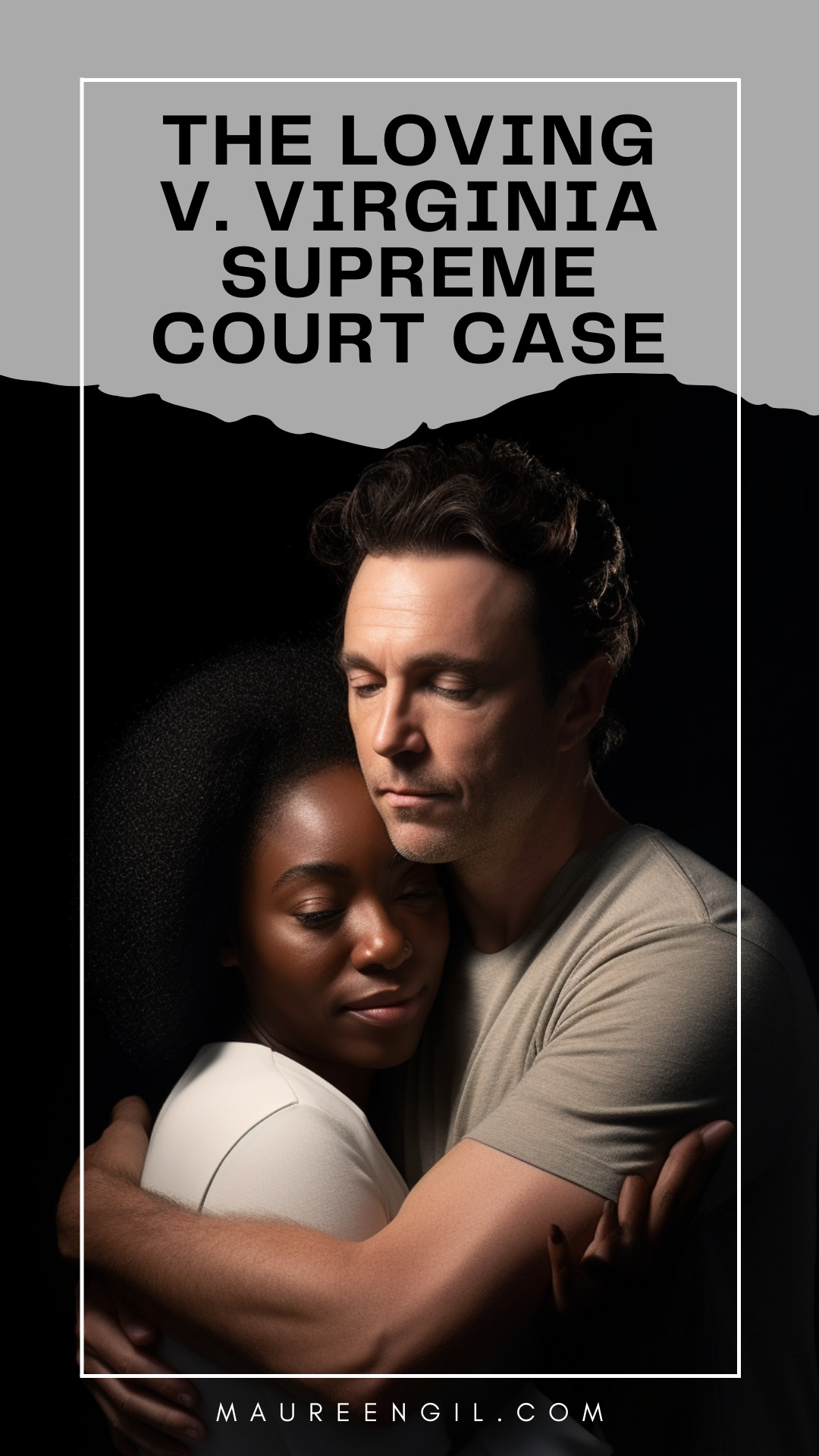 The Loving v. Virginia Supreme Court Case (and Summary) on Interracial Marriage
Read the case: Loving v. Virginia, 388 U.S. 1 (1967)
Short Synopsis
In 1958, Richard Loving (a white man) married Mildred Jeter (a Black woman) in Washington, D.C. because interracial marriage was against the law in the Commonwealth of Virginia. (Jeter self-identified as Indian, although during the trial, she stated that she was Black.) On July 11, 1958, the police raided their house.
They pled guilty and were sentenced to one year in prison, which was suspended if they left Virginia for at least 25 years. The ACLU filed a motion to vacate the criminal proceedings, which was appealed to the Virginia Supreme Court and then to the United States Supreme Court.
Their attorney, Bernard S. Cohen, relayed Richard Loving's message to the Supreme Court during oral arguments: "Mr. Cohen, tell the Court I love my wife, and it is just unfair that I can't live with her in Virginia."
On June 12, 1967, Chief Justice Earl Warren wrote for the Court, a unanimous (9-0) decision in favor of the Lovings, which overturned their criminal convictions and struck down Virginia's anti-miscegenation law.
The Court wrote that laws designed "to prevent marriages between persons solely on the basis of racial classifications" violated the  Equal Protection and Due Process Clauses of the Fourteenth Amendment.
The Virginia Courts
On November 6, 1963, with help from the ACLU, the Lovings filed a motion to vacate their sentence, challenging it on constitutional grounds.
On October 28, 1964, the Lovings instituted a class action in the United States District Court for the Eastern District of Virginia, which apparently kicked the trial court in the seat of the pants to make some kind of judgement, so on January 22, 1965, the trial court denied the motion to vacate the Lovings' sentence.
The Lovings appealed to the Supreme Court of Appeals of Virginia. The District Court was still kicking around its class action case, and on February 11, 1965, it allowed the Virginia case to go forward.
Carrico wrote for the Supreme Court of Appeals of Virginia, in Loving v. Com., 147 S.E.2d 78 (Va. 1966) that the Virginia laws were not unconstitutional, but the sentence of not returning to the state for 25 years unreasonable and void.
The Virginia Laws
The applicable law that the Lovings were convicted under was going to Washington, D.C. to marry and returning to Virginia to live together.
Sec. 20-58. Leaving State to evade law.

If any white person and colored person shall go out of this State, for the purpose of being married, and with the intention of returning, and be married out of it, and afterwards return to and reside in it, cohabiting as man and wife, they shall be punished as provided in Sec. 20-59, and the marriage shall be governed by the same law as if it had been solemnized in this State. The fact of their cohabitation here as man and wife shall be evidence of their marriage.
They were to be punished for not less than one year but not more than five years. At least one year for marriage between a white person and a "colored" person!
Sec. 20-59. Punishment for marriage.

If any white person intermarry with a colored person, or any colored person intermarry with a white person, he shall be guilty of a felony and shall be punished by confinement in the penitentiary for not less than one nor more than five years.
Important to this judgement was also that the Lovings' marriage was automatically voided.
Sec. 20—57. Marriages void without decree.

All marriages between a white person and a colored person shall be absolutely void without any decree of divorce or other legal process.
And, of course, who was a white person. A white person was a person who has never had a "trace whatever of any blood" other than white with the exception of 1/16th American Indian. Richard Loving was a "white person."
Sec. 20—54. Intermarriage prohibited; meaning of term 'white persons.'

It shall hereafter be unlawful for any white person in this State to marry any save a white person, or a person with no other admixture of blood than white and American Indian. For the purpose of this chapter, the term 'white person' shall apply only to such person as has no trace whatever of any blood other than Caucasian; but persons who have one-sixteenth or less of the blood of the American Indian and have no other non-Caucasic blood shall be deemed to be white persons. All laws heretofore passed and now in effect regarding the intermarriage of white and colored persons shall apply to marriages prohibited by this chaper.
(The exception of 1/16th of American Indian blood was because of the descendants of John Rolfe and Pocahontas.)
Of course, Mildred Jeter was defined as a "colored person."
Sec. 1—14. Colored persons and Indians defined.

Every person in whom there is ascertainable any Negro blood shall be deemed and taken to be a colored person, and every person not a colored person having one fourth or more of American Indian blood shall be deemed an American Indian; except that members of Indian tribes existing in this Commonwealth having one fourth or more of Indian blood and less than one sixteenth of Negro blood shall be deemed tribal Indians.
This prohibition, according to the Supreme Court of the United States, was a throwback to slavery.
Virginia's Arguments
The Commonwealth had two, interrelated arguments.
The first was that the laws did not violate the Equal Protection clause because it treated all races the same. In other words, both Richard Loving and Mildred Jeter were equally punished.
Because the laws treated everyone equally, that meant that the Supreme Court could only interfere if there were no rational basis for the state's treating interracial marriage differently from other marriages. Read that again. That argument is a double negative. It means that because the scientists were doubtful about interracial marriage, then SCOTUS couldn't intervene.
In other words, the law could be totally messed up. But unless all the scientists agree that the law was totally messed up, then stay out of it, SCOTUS. As my husband's boss used to say, I don't need to go outside to know it's raining.
SCOTUS Decision
The Supreme Court rejected, however, the mere 'equal application' of a law equaled to 'equal protection.' They therefore also rejected the second argument of rational basis (because it was premised on the equal application argument). Part of this was that these laws were based on an unequal application of racial classifications.
Instead of "rational basis," which is a fairly lenient test, the Court used the "most rigid scrutiny" test to apply to racial classifications. The rigid scrutiny test "must be shown to be necessary to the accomplishment of some permissible state objective, independent of the racial discrimination which it was the object of the Fourteenth Amendment to eliminate."
Instead of the Lovings' requirement to show that there was not a rational basis for these laws, the Court stated that the Commonwealth had the requirement to show "some permissible state objective" other than racial discrimination.
The Court then stated that there was absolutely no purpose for racial discrimination in marriages, and this law was to uphold White Supremacy.
The next section about Due Process was small. It stated that to marry is a freedom of liberty, and to deny that freedom was against Due Process.
What Happened to Richard Loving and Mildred Jeter?
The couple stayed marriage until 1975, when Richard Loving was tragically killed in a car accident.
My Opinion on Loving v. Virginia
A seminal case in the rights for racial equality and marriage equality, ruling that state laws banning interracial marriage violate the Equal Protection and Due Process Clauses of the Fourteenth Amendment to the U.S. Constitution.
The original sentence of not returning to the state for 25 years for marrying someone of a different race clearly shows how deep the racial bigotry ran. As a woman in a biracial marriage (my husband is Causasian, I am Korean), this case paved the way for couples like us to be left alone, to love each other, and to marry.
Other Resources