Here's my list of the the best legal thriller books ever. I collected 25 of them, so you have plenty of stuff to read over for the holidays! By the way, I have a goal of reading (and making a synopsis) of all these books!
The 25 Best Legal Thriller Novels of All Time
1. "Charlotte Watson and The Case of the Missing Bullet" by Maureen Gil (That's Me!)
Okay, so I cheated here since this is my short story. It's about Charlotte Watson, a criminal defense attorney who can see the ghost of her ex-husband. He only shows up if her client is innocent (or she's on a date). Even though it's a short story, it's absolutely FREE!
Grab your copy by signing up to the mailing list!
No obligation. Unsubscribe at any time. I won't sell your email or spam you because I'm not a jerk.
2. To Kill A Mockingbird By Harper Lee
To Kill A Mockingbird is a classic courtroom drama. Told from the point of view of Atticus Finch's daughter. Attius defends his client, Tom Robinson. Tom, a black man, was falsely accused of raping a white woman.
3. A Time To Kill by John Grisham
A Time To Kill is not John Grisham's first novel, but in my mind, it stands the test of time because of its important racial issues. This legal thriller follows attorney Jake Brigance as he tries to save Carl Lee Hailey. Carl Lee killed the two men who raped his little girl, Tonya.
4. Mistaken Identity by Lisa Scottoline
Mistaken Identity features Bennie Rosato, who finds herself defending a woman who looks almost exactly like her. Bennie finds herself in a tangled web of corruption as she reveals parts of her own past.
5. Defending Jacob by William Landay
Defending Jacob is about assistant district attorney Andy Barber, whose son, Jacob, is accused of stabbing to death a young boy in a park. The pressure mounts and so does the evidence against Jacob. This is a question that any loving parent: who far would you go to protect your child?
6. The Lincoln Lawyer by Michael Connelly
The Lincoln Lawyer is about Mickey Haller, an attorney who does business out of his Lincoln. He takes on a premium case, a Beverly Hills playboy, who chooses Haller. Easy money. Except that someone close to him is murdered, and Haller is suddenly in above his head.
The Lincoln Lawyer Starring Matthew McConaughey (Book and Movie Review)
7. Anatomy of a Murder by Robert Traver
Anatomy of a Murder is about a sensational trial where small-town lawyer Paul Biegler must defend US Army Lieutenant Frederick "Manny" Manion, who has been arrested for the murder of innkeeper Bernard "Barney" Quill. Manny doesn't deny killing Quill, but claims that Quill raped his wife. A classic legal thriller written by Michigan Supreme Court Justice John D. Voelker under the pen name Robert Traver.
8. Presumed Innocent by Scott Turow
Presumed Innocent is the novel that launched Scott Turow's career. This book features Rusty, a prosecutor first charged with finding the killer of a member of Rusty's staff, and then later, himself accused of that murder.
9. The Legal Limit by Martin Clark
The Legal Limit is about Mason Hunt, the brother of felon Gates Hunt. Mason leads a wonderful life, being a prosecutor in their Virginian hometown. Suddenly, something tragic happens, and Mason must come face to face with a terrible secret that he and Gates swore to keep.
10. Blood Defense by Marcia Clark
Blood Defense is by the O.J. Simpson prosecutor Marcia Clark. It's about Samantha Brinkman, a LA criminal defense attorney. The defendant is a decorated LAPD detective, accused of a high-profile double murder. As Samantha goes into overdrive to defend her client, she realizes that maybe she's been played the fool.
11. Every Reasonable Doubt by Pamela Samuels Young
Every Reasonable Doubt is FREE on the Kindle! No excuses! Attorneys Vernetta Henderson and Neddy McClain aren't too fond of working together when taking on the biggest case of their careers. Their client is a socialite who was charged with the brutal murder of her husband. Good female bonding ensues as they fight this case.
12. Judge and Jury by James Patterson and Andrew Gross
James Patterson is a thriller powerhouse, and he teams up with Andrew Gross to give us Judge and Jury, about inspiring actress Andie DeGrasse and FBI agent Nick Pellisante. She ends up as juror #11 for the trial against afia don Dominic Cavello, known as the Electrician, who is linked to hundreds of gruesome crimes. Things turn ugly … and personal … as the trial progresses.
N.B. This is not the typical legal thriller, but rather contains segments of courtroom drama. But I included it here because James Patterson is … well, James Patterson.
13. A Civil Action by Jonathan Harr
A Civil Action is a true story of a lawyer who took down two of the nation's largest corporations, accused of causing children's deaths by water contamination.
14. The Emperor of Ocean Park by Stephen L. Carter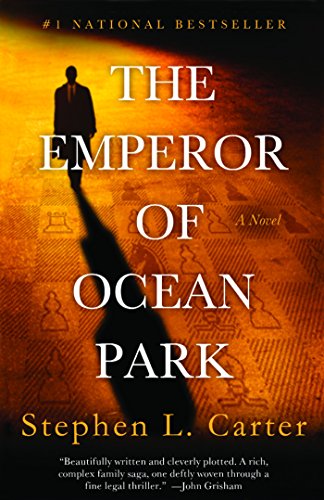 The Emperor of Ocean Park is about Talcott Garland, a successful law professor, devoted father, and husband of a beautiful, ambitious woman. Talcott's father, Judge Oliver Garland, a disgraced former Supreme Court nominee, is found dead under suspicious circumstances. He also left a mysterious puzzle, which sends Talcott on a tailspin of justice to find out what happened.
15. Hard Evidence by John Lescroart
Hard Evidence – When the bullet-ridden body of a Silicon Valley billionaire washes up on shore, assistant D.A. Dismas Hardy finds himself the prosecutor in San Francisco's murder trial of the century. The suspect: a Japanese call girl with a long list of prominent clients. But when a bizarre series of events blows the case wide open, Hardy finds himself on the other side of the law—as a lawyer for the defense…
16. Judgment by Joseph Finder
Judgment is about Juliana Brody, a judge in the Superior Court of Massachusetts, who has a one-night stand. Until that man proves to have an integral role in a case she's presiding over. What's worse, she's been caught on video, and she finds herself in the middle of an unfolding, and terrible, conspiracy.
17. Confessions of An Innocent Man by David R. Dow
Confessions of an Innocent Man is about Rafael Zhettah, who dates Tieresse, a beautiful billionaire. Until she ends up murdered in his home. He is convicted of the crime and sent to death row. Soon, his attorneys get his conviction overturned. And now, he will exact his own justice. David R. Dow dedicated his life to fight against capital punishment.
18. An Innocent Client by Scott Pratt
An Innocent Client is about Joe Dillars, criminal defense attorney, who wants to quit the criminal defense business but can't resist the chance to represent someone who might actually be innocent.
19. Miracle Creek by Angie Kim
Miracle Creek is about Young and Pak Yoo, who run the experimental medical treatment device Miracle Submarine. Then the Miracle Submarine explodes, killing two people. The ensuing trial uncovers some big secrets about what actually happened.
20. Legacy of Lies by Robert Bailey
Legacy of Lies is about small-town lawyer Bocephus Haynes. District Attorney General Helen Lewis is about to be arrested for the murder of her ex-husband. Just before he died, Helen's ex-husband threatened to reveal a dark secret. Just when she resigns herself to her fate of being convicted of a murder she didn't commit, something happens. But that something just might break Bo.
21. The Color of Law by Mark Gimenez
The Color of Law features Scott Fenney, who is assigned to defend a heroine-addicted hooker named Shawanda Jones for the murder of Clark McCall, the wild child of a politician. Someone wants her convicted, but unfortunately for Scott, Shwanada just might be innocent.
22. Monster by Walter Dean Myers
Monster is a coming-of-age story of Steve Harmon, a teenage boy in juvenile detention and on trial for the murder. Attorney Kathy O'Brien defends him.
23. Clean Hands by Patrick Hoffman
Clean Hands is about corporate attorney Elizabeth Carlyle, who is defending a prominent bank. But one of her junior associates lost his phone, with some secret documents on it. Ex-CIA officer Valencia Walker is hired to help. Things get dramatic when those documents were copied, and Elizabeth is being blackmailed. High stakes call for high prices.
24. An Invisible Client by Victor Menthos
An Invisible Client is about personal injury attorney Noah Byron, who only takes cases that will come with a nice cut of the pie. Noah does a favor for his ex-wife, and takes on a Joel's case. Joel was a boy poisoned by children's medicine. The case leads right back to the pharmaceutical company, a huge corporation willing to take anyone down who gets in its way.
25. A Nearly Normal Family by M.T. Edvardsson
A Nearly Normal Family is about Stella Sandell, an eighteen year old accused of murdering a man fifteen years older than her. Stella's mother, a criminal defense attorney, defends her daughter. And Stella's parents will soon ask themselves: how well do you know your child?
Percy Jackson and the Olympians: The Lightning Thief: The Graphic Novel (Percy Jackson and the Olympians: The Graphic Novel Book 1)
as of December 3, 2023 11:20 pm